Realstar is excited to introduce our newest environmental initiative as we celebrate Earth Day this April 22, 2022.

Realstar has partnered with the Electronic Recycling Association (ERA). For 15 years, the ERA has been taking unused electronics and refurbishing them for non-profits/charities or safely disposing them to ensure no toxins enter the environment. We couldn't be happier to join their efforts in reducing the amount of waste in our landfills, lessening the impact of e-waste on the environment and providing more people with access to technology.
ERA collection boxes are on-site at many Realstar communities for residents to safely donate old electronics giving them second life and divert e-waste from landfills!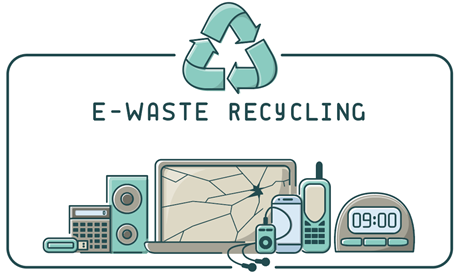 What can be disposed of?
Laptops
Tablets
Keyboards
MP3 Players
Mobile Phones
Wires and Cables
Mice
When is it being collected?
Earth Day (April 22, 2022)

Environment Day (June 6, 2022)


* Environment day is Sunday, June 5th, so collection will take place the following business day
Ozone Day (September 16, 2022)
Waste Reduction Week (October 17-21, 2022)
Other ways Realstar is working to make our rental communities more environmentally conscious:
Realstar continues to evaluate environmental initiatives and remains focused on ensuring communities are resilient and adaptable, so residents can continue to enjoy their homes.

1. Electronic vehicle (EV) charging stations
Realstar is expanding the offering of EV charging stations at various rental communities across the country. This compliments the projected 20% growth of all vehicles being electric by 2025 and 40% by 2030. We are pleased to already offer EV stations at Inlet Glen Apartments, The Taunton, La Voile Boisbriand and La Voile Pointe-Claire.
2. Low-flush/high-efficiency toilets
Low-flush toilets are designed to use 20-40% less water than traditional toilets. Realstar continues to replace traditional toilets with low-flush toilets across the country.
3. LED lightbulbs
Short for light-emitting diode, LED light bulbs are up to 90% more efficient than incandescent bulbs which means they use less energy and preserve valuable resources. Where able, Realstar continues to replace lightbulbs throughout our communities.

Three simple ways you can make for a more environmentally healthy home and planet:
1. Conserve
Preserving resources and preventing scarcity is an important factor part of protecting the environment and our global well-being. This includes conserving water and energy – which may seem to be in abundance today may not be the case of tomorrow.
Tips:
Turn the tap off while brushing, get leaky faucets attended too, take showers over baths – shortening your shower by only 2 minutes can save more than 10 gallons of water!
Turn lights off when not in the room/home, use rechargeable batteries, use LED lightbulbs
2. Sustainability
We don't often consider all that goes into creating the items we buy or the food we eat. Food production for instance uses valuable resources like nutrient rich soil, water and energy through production, packaging and transportation.
Decomposing food produces methane; a greenhouse gas, and directly contributes to global warming. Ultimately, the less waste we produce the better.
Tips:
Buying locally grown, in-season options
Shop wisely and limit waste through purchasing only what you can/will eat and use proper food storage
3. Elimination
Eliminating non-biodegradable items from our homes is vital in reducing what ultimately ends up in landfills and the ocean. This includes choosing sensibly on things like fast fashion and plastics.
Fast fashion, while relatively inexpensive, is not designed to last and often consists of synthetic fibers that require energy intense manufacturing process and when sent to the landfill does not break down overtime.
The same goes for plastics. Millions of tons of single use plastics end up in our oceans each year, where they are ingested by sea life and thus entering the food chain.
Tips:
Purchasing items made of natural or recycled fibers

Purchase quality over quantity and donate or recycle unwanted clothing

Ditch the plastic. This includes water bottles, cutlery, containers and purchase items that use less wasteful packaging where possible.